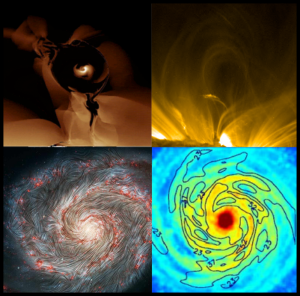 The plasma is the most common state of the baryonic matter in the Universe (99%). Most of a star, the interplanetary and interstellar medium, and the ionosphere, are plasmas. The plasma can also be generated in terrestrial laboratories for industrial applications such as producing surface coatings, precision cuts in lamps, micro-motors, and plasma reactors. 
A plasma is a fluid consisting of a large number of free charged particles (globally neutral and whose kinetic energy is larger than the electrostatic potential energy between them). The charges and currents that conform a plasma are sources of the electromagnetic fields and, in turn, these fields affect the distribution of charges and currents which makes its dynamics highly nonlinear and very different from that of a neutral gas. When the magnetic fields are capable of modifying an individual particle trajectory, it is said that the plasma is magnetized. The corona is highly magnetized and therefore, several structures are observed, some of which can maintain its stability for relatively long times as dark filaments on the surface of the sun
In the group of astrophysical plasmas, our scientist perform studies about the dynamic configuration and structures of the corona through the analysis of magnetic arcs and prominences, the formation of voids that remain in the plasma due to the interaction of nonlinear waves, the formation of very energetic shock wave capable of sweeping the chromosphere along a whole quadrant, etc.
The team also analyse the interaction of stellar winds with the magnetosphere of exoplanets, and they model the morphology of supernova remnants affected by instabilities and the influence of the magnetic field.