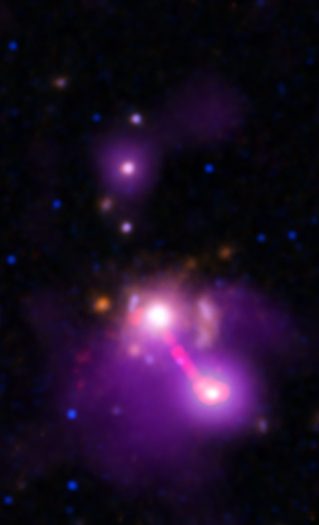 An international team, including Carlos Donzelli, a researcher at the Instituto de Astronomía Teórica y Experimental (IATE) and the Observatorio Astronómico de Córdoba, made a finding that could challenge the timescales in which galaxies are expected to grow. These results were obtained using data from NASA's Chandra X-ray Observatory and the Gemini International Observatory.
Around 9.2 billion light-years from Earth, an unexpectedly solitary galaxy has been detected that appears to have attracted and assimilated all of its former companions. It would have a quasar inside it, a supermassive black hole that pulls gas into the centre of the galaxy and propels powerful jets of matter. This object was named 3C 297 and, although its environment is consistent with that of a cluster, i.e. a structure of hundreds or thousands of galaxies, it is alone.
When observations of 3C 297 are made with the Chandra X-ray Observatory, they found it to be surrounded by large amounts of gas with temperatures in the tens of millions of degrees, which is characteristic of galaxy clusters. So, one would expect to find at least dozens of Milky Way-like galaxies there. However, data from the Gemini Observatory in Hawaii revealed that the galaxies closest to this lone object are at a great distance. In other words, it appears to be a cluster of galaxies with all of its objects missing.
Moreover, the jet from the supermassive black hole has created an intense X-ray source some 140 000 light-years away, implying that it has penetrated the gas surrounding the galaxy. And, as if that weren't enough, one of the radio jets is bent, showing that it has interacted with its surroundings. So, the explanation given by the authors of the paper is that the surrounding galaxies merged with this observed galaxy.
In the work published in The Astrophysical Journal the team suggests that 3C 297 is no longer a cluster of galaxies but a "fossil group". That is, the final stage of a galaxy crawling and merging with other galaxies. Although this is not the first fossil group detected, it would be at a much greater distance than the furthest ones found so far (previous records were at distances of 4.9 and 7.9 billion light-years).
Mischa Schirmer, one of the co-authors, says: "It may be difficult to explain how the universe could create this system only 4.6 billion years after the big bang". and adds that "this doesn't break our ideas of cosmology, but it starts to push the boundaries of how fast both galaxies and galaxy clusters must have formed".
While the presence of dwarf galaxies around 3C 297 cannot be ruled out, their presence would still not explain the absence of larger galaxies, such as the Milky Way. 
Therefore, according to the team's impressive results, this galaxy will spend billions of years essentially alone.
Chandra X-ray Observatory press release.
Scientific publication
Powerful Yet Lonely: Is 3C 297 a High-redshift Fossil Group?

Authors | Valentina Missaglia (Università degli Studi di Torino, Italy), Juan P. Madrid (Universidad de Tejas en el Valle del Río Grande, USA), Mischa Schirmer (Max-Planck-Institut für Astronomie, Germany), Francesco Massaro (Università degli Studi di Torino, Italy), Alberto Rodríguez-Ardila (LNA/MCTIC, Brazil), Carlos J. Donzelli (IATE, CONICET/UNC, Argentina), Martell Valencia (Universidad de Tejas en el Valle del Río Grande, USA), Alessandro Paggi (Università degli Studi di Torino, Italy), Ralph P. Kraft (Center for Astrophysics, Harvard & Smithsonian, USA), Chiara Stuardi (Universitá di Bologna, Italy) & Belinda J. Wilkes (Center for Astrophysics, Harvard & Smithsonian, USA).